Arsenal Yards Expands it Culinary & Wellness Offerings This Summer & Fall
Published: July 26, 2023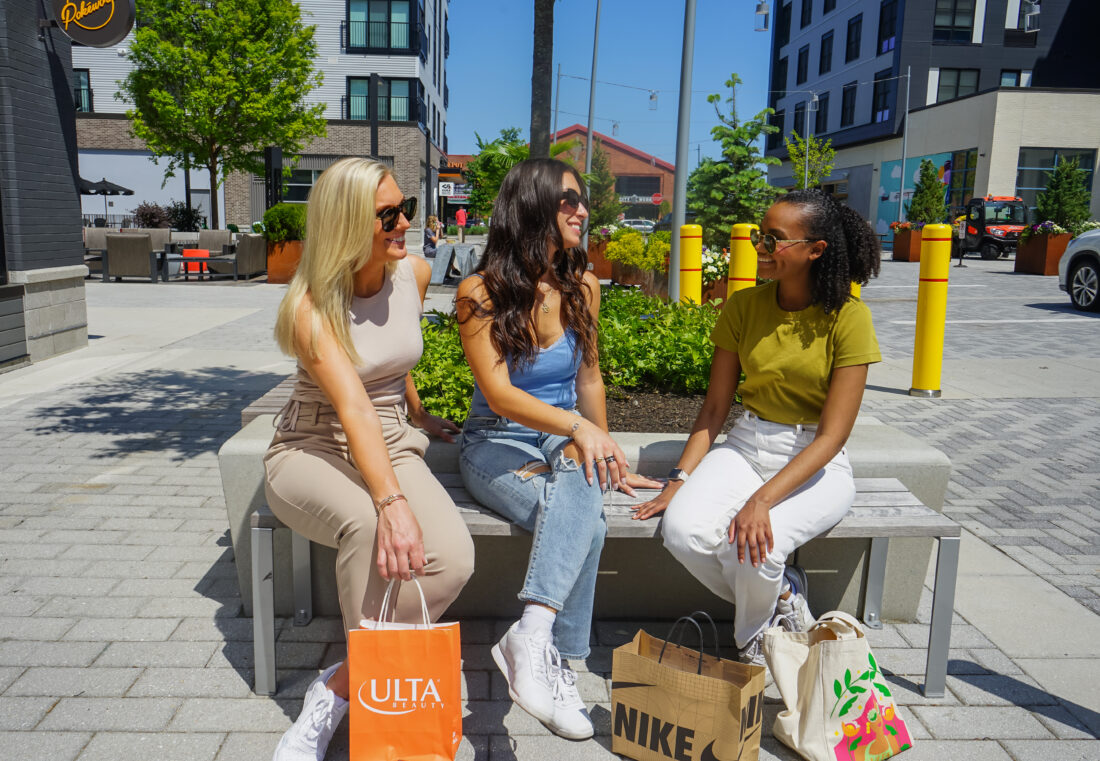 From Facials to Cryotherapy to Fan-Favorite Doughnuts, Arsenal Yards Welcomes Premier New Establishments to Watertown's Most Exciting Community Hub!
Watertown, Mass. (July 25, 2023) – Arsenal Yards, the thriving new neighborhood in Watertown's historic East End from Boylston Properties and Wilder, is pleased to welcome exciting new dining, health, and wellness offerings to the neighborhood this summer, in addition to gearing up for additional highly–anticipated openings over the coming months.
Coming soon to the Arsenal Yard's robust roster of restaurants, retailers, fitness, service, and entertainment destinations, is fan–favorite Blackbird Doughnuts, as well as Chip City and Medium Rare. The most recent openings include specialty food venue dining venue Ten One Tea House, and health and wellness options like Skin Laundry, Restore Hyper Wellness, and GNC.
"Summer is one of the best times to visit Arsenal Yards, and all of the new and diverse additions to the neighborhood this summer truly represent what makes our community so unique," said Kerry Dowling, Wilder's Managing Director, Leasing. "Whether you are looking to kickstart your wellness journey, sample delectable and exotic teas, or enjoy the outdoors while exploring the neighborhood, there is something for everyone to be excited about. It's our goal to make sure everyone who comes to Arsenal Yards, whether to live, work, or play, finds everything they need and everything they want."
A sampling of recent and upcoming openings at Arsenal Yards includes:
Coming Soon
Blackbird Doughnuts To Debut Seventh Location
Known for its delicious, made–from–scratch doughnuts, Blackbird Doughnuts will open its seventh Massachusetts location at 116 Bond St. in Fall 2023. From classic options like Vanilla Glaze, Chocolate Old Fashioned, and Boston Cream to the rotating menu of unique flavor specials with decadent glazes and fillings, guests can enjoy the freshest treats made with the highest quality ingredients.
Chip City To Brings Its Famous NYC Cookies To Greater Boston
Born in Astoria, Queens in 2017, Chip City is known for its delicious, ooey-gooey cookies in a variety of mouth-watering flavors. From unique offerings like Everything, Lemon Berry, and Peanut Butter and Jelly to the classic Chocolate Chip, Chip City brings cookie lovers back to their childhood. With multiple locations across Manhattan and Long Island, Chip City makes its Greater Boston debut at Arsenal Yards' Bond Square later this year.
Medium Rare To Offer The Best Steak & Fries At Arsenal Yards
The award–winning Washington, D.C.–based restaurant locally famous and universally loved for its steak frites will debut soon at Arsenal Yards. Offering a fun and friendly dining experience in a relaxed atmosphere, Medium Rare provides a mix of simple yet sophisticated dinner dishes like its famous Culotte Steak and Hand–Cut Fries and brunch favorites like the Steak & Eggs and Famous Benedict, along with unique regional wines and beers that make for the perfect meal. Medium Rare will be opening in Bond Sq, next to Pokeworks.
Now Open
Ten One Tea House Offers Healthy Artisanal Beverages
With four locations around Boston and Providence, Ten One Tea House provides healthy beverages for the tea lover with simple, high-quality ingredients. With the goal of inspiring imbibers to appreciate the art of tea and live a healthy lifestyle, Ten One Tea House offers everything from tasty seasonal specials like the Strawberry Milk Tea to sweet fresh fruit teas to matcha blends, plus an array of signature desserts to enjoy. Ten One Tea House is located at 105 Bond Square.
Skin Laundry Introduces Not–Your–Average Facials Located at 124 Bond Square, Skin Laundry uses advanced technology and medical grade lasers to rejuvenate skin cells, boost collagen production, and improve skin clarity for the most transformative results. Completely non-invasive, Skin Laundry's ethos of providing safe, personalized, and effective skincare is brought to life with its deep-cleaning Signature Laser facial, resurfacing Thermo Fractional facial, and rapid Ultra Duo facial, along with add–on services for neck, chest, and hands.
Restore Hyper Wellness Provides Cutting-Edge Services From Cryotherapy to HydraFacial®, Restore is bringing its signature Hyper Wellness® services to Arsenal Yards in Watertown. Restore's system of total balance, energy and proactive healing helps people feel their best so they can do more of what they love. They offer Core Services like Cryotherapy, Red Light Therapy, Infrared Sauna, and Compression, along with Specialty Services like IV Drip Therapy, Intramuscular Shots, Cryoskin, and more. One of over 150 locations nationwide, Restore is located at 10 Bond Street.
GNC Brings Motivation And Supports The Desire To Live Well
GNC, the leading specialty health, wellness, and performance retailer, recently opened at Arsenal Yards with the mission to motivate and support patrons with their desire to live. By offering a premium collection of heath, wellness, and performance products, including protein, performance supplements, weight management supplements, vitamins, herbs and greens, wellness supplements, health and beauty, food and drink, and other health and wellness merchandise, customers can explore a range of proprietary GNC and nationally recognized brands. GNC is located at 120 Bond Square and their Grand Opening Celebration will be August 11th-13th with more details to be announced.
These newest additions at Arsenal Yards join the many existing venues that have opened over the past few years including restaurants like Buttermilk & Bourbon, Taffer's Tavern, Kura Sushi, Condesa Restaurante Mexicano and Tequila Bar, City Works, Tori Jiro, sweetgreen, Vitality Bowls, Pokeworks, Shake Shack, and Frank Pepe, grocery options like Roche Bros. and Gordon's Wine, health and wellness destinations like F45 Training, Rumble, and [solidecore], and the state–of–the–art cinema The Majestic 7. Flourishing outdoor space including the bustling Bond Square, the River Green, and sprawling Arsenal Green in Arsenal
Park offers space to get outside and connect with others in the Watertown community through various events and activations all year long.
For more information about Arsenal Yards' latest openings:
Arsenal Yards: www.arsenalyards.com
Restore Hyper Wellness: www.restore.com
Skin Laundry: www.skinlaundry.com
GNC: www.gnc.com
Ten One Tea House: www.tenoneteahouse.com
Blackbird Doughnuts: www.blackbirddoughnuts.com
Medium Rare: www.mediumrarerestaurant.com
###
ABOUT ARSENAL YARDS
Along the Charles River, Greater Boston's next great neighborhood is thriving in the East End of Watertown. Arsenal Yards boasts curated shops, eateries, fitness, and entertainment venues including Buttermilk & Bourbon, Condesa Restaurante Mexicano, Kura Sushi, The Majestic 7, Shake Shack, City Works Eatery & Pour House, Gordon's Wine, Pure Barre, Roche Bros. Ulta and more. Spanning over one million square feet, Arsenal Yards offers 200,000 sq. ft. of state-of-the-art life science space, home to current biotech tenants SQZ Biotech, Kymera and Arkuda; 300 contemporary apartments at Blvd & Bond; and a 146-room Hampton Inn & Suites by Hilton. With a focus on building community, Arsenal Yards hosts seasonal event series for both residents and visitors, including outdoor musical performances and fitness classes, along with a "Picnic in the Park" series in the summer months and a "Fireside" fire pit activation in winter. Arsenal Yards is a co-development of Boylston Properties and Wilder. For more information visit www.arsenalyards.com/.